What Is Animal SensAbility?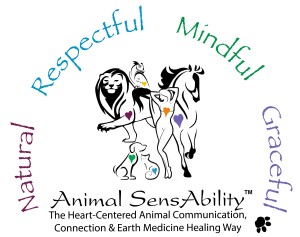 Animal SensAbility is a heart-centered animal care & connection methodology developed by Andrea Sobotka, ASAM, HTAP, Sh. Reiki, Animal Communicator. It is a practice of animal communication, energy healing, earth medicine techniques, and natural animal well-care that considers the mind, body and spirit of animals as a whole from both an intuitive and physical perspective. Animal SensAbility acknowledges the existence of the energetic body as an important, if not primary, role player in the functionality of the physical mind and body. Nature, when left alone, has an amazing ability to heal itself. This heart-centered practice of communication, connection and healing works in harmony with natural forces to create a state of balance and well being.
The Animal SensAbility Series of Workshops cover various aspects of animal communication, Energy & Earth Medicine Healing, and Natural Wellness. These interactive classes are held in small class settings at unique locations specially chosen to enhance the learning experience by being closer to animals and nature. Visit the Classes page for more info on types of classes offered, upcoming classes, and testimonials.
Andrea Sobotka is the CEO and founder of Spirit Animal Wisdom, LLC. Andrea enjoys a private practice that serves all animals, from puppies to tigers, to hoof stock to birds, and even the two legged (human animal). In her work as a gifted communicator, gentle healer and intuitive counselor for animals and their people, she found herself called to teach others her methodology as a way to benefit more animals' lives than she could do alone.
"I believe we all have the ability to connect and communicate with animals, we have just forgotten how. Their language is far less complicated than ours, it is simply silent and utilizes a 6th sense. My classes can help awaken that gift in you. I believe optimal health and wellness is the result of understanding and honoring our intimate relationship with nature, energy and the collective spirit. Animals know this and are instinctively drawn to that which they know and trust will serve them best. In sharing my Animal SensAbility methodology, my vision is to light a path for others to follow in their quest to be more sensitive and natural caretakers of the animals in their lives." ~ Andrea Sobotka